Career related seminars are regularly organized by Liberty Career Academy. | લિબર્ટી કેરિયર એકેડમી દ્વારા કારકિર્દી સંબંધિત સેમિનારનું નિયમિત આયોજન કરવામાં આવે છે.

કારકિર્દી સંબંધિત પ્રશ્નો અંગે મૂંઝવણમાં હોય તેવા ઉમેદવારો અથવા વિદ્યાર્થીઓ માટે લિબર્ટી સમયાંતરે સેમિનારનું આયોજન કરે છે અને અનુભવી શિક્ષકો મફત માર્ગદર્શન આપે છે. તમારું નામ, નંબર રજીસ્ટર કરો, તમારો વિસ્તાર પસંદ કરો અને તમારા વિસ્તાર અનુસાર માહિતી મેળવો. Right guidance in job or profession is very necessary, this guidance can be obtained only from right guru or right experienced organization. Liberty Career Academy is an experienced educational institution providing coaching for career related courses, competitive exams like Union Public Service Commission(UPSC), Gujarat Public Service Commission(GPSC), SSC, Bank, Police, TET-TAT recruitment as per government norms. Liberty organizes seminars from time to time for any candidates or students who are confused about career related questions, and experienced faculties provide free guidance.
Liberty Career Academy participates in various educational expos throughout the year and distributes some books along with guiding disadvantaged students through competitive education.
#upscseminar #gpscseminar #psiseminar #constableseminar #competitiveexamseminar #freeeducationalseminar
Register your Name, Number, select your area and get information according to your area whenever such a seminar or educational expo is organized.
---
Seminars are regularly organized by Liberty Career Academy
Free Seminar [July 2023]
UPSC | GPSC | Dy.SO
Bapunagar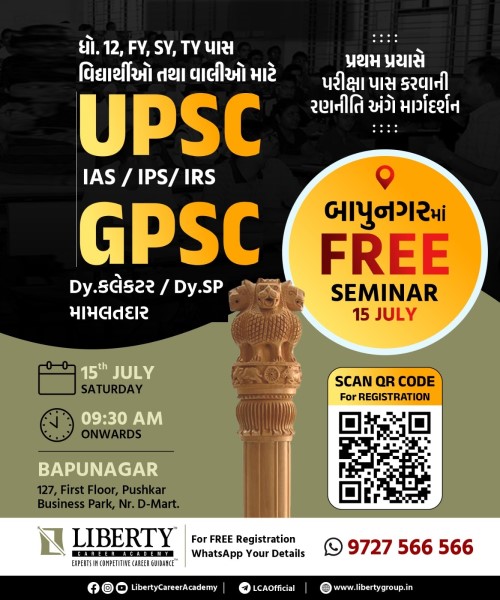 Free Seminar [June 2023]
UPSC | GPSC | Dy.SO
Maninagar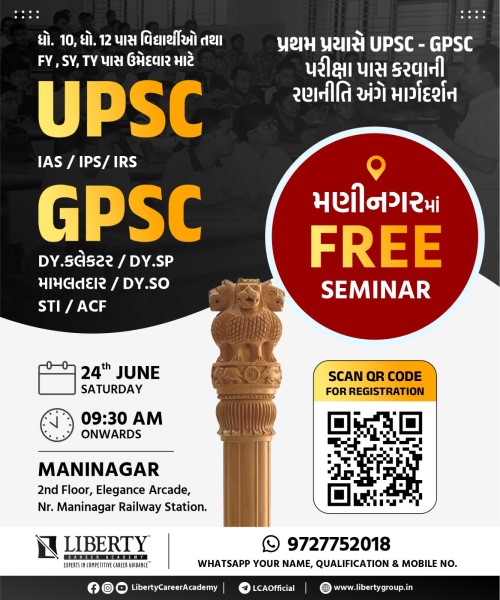 Free Seminar [May 2023]
GPSC | Dy.SO {Class 1,2,3}
Bhavnagar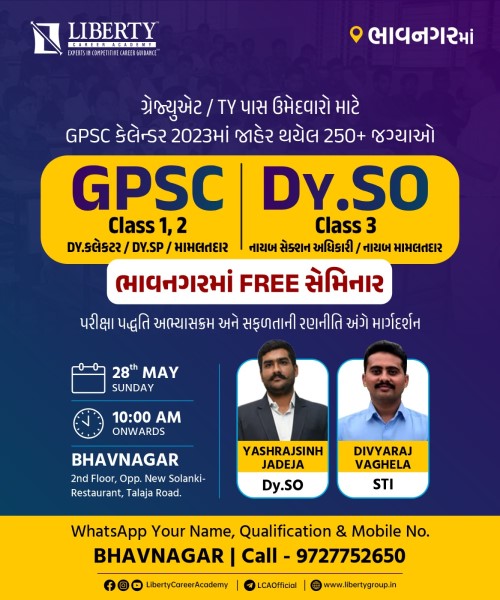 Thanganat [May 2023]
Education Expo
Gandhinagar
Free Seminar [April 2023]
UPSC-GPSC Complete Guidance
IAS/IPS/Dy.Collector/Dy.Sp/Police Inspector