Gujarat Public Service Commission - About GPSC
Dy. Collector / Dy. DDO / RTO / Judges / Mamlatdar / RFO / TDO / Police Inspector/ Other Allied Services
Govt. of Gujarat which conducts the reputable Gujarat Administrative Service
GPSC stands for Gujarat Public Service Commission. GPSC Exam is held by the commission to recruit for Class I, II, and III services of the state administration i.e. Deputy Collector, Dy. SP, Taluka Development Officer, Police Inspector, Chief Officer, Nayab Mamlatdar. Top designation for GPSC Gujarat administrative Examination is Dy Collector.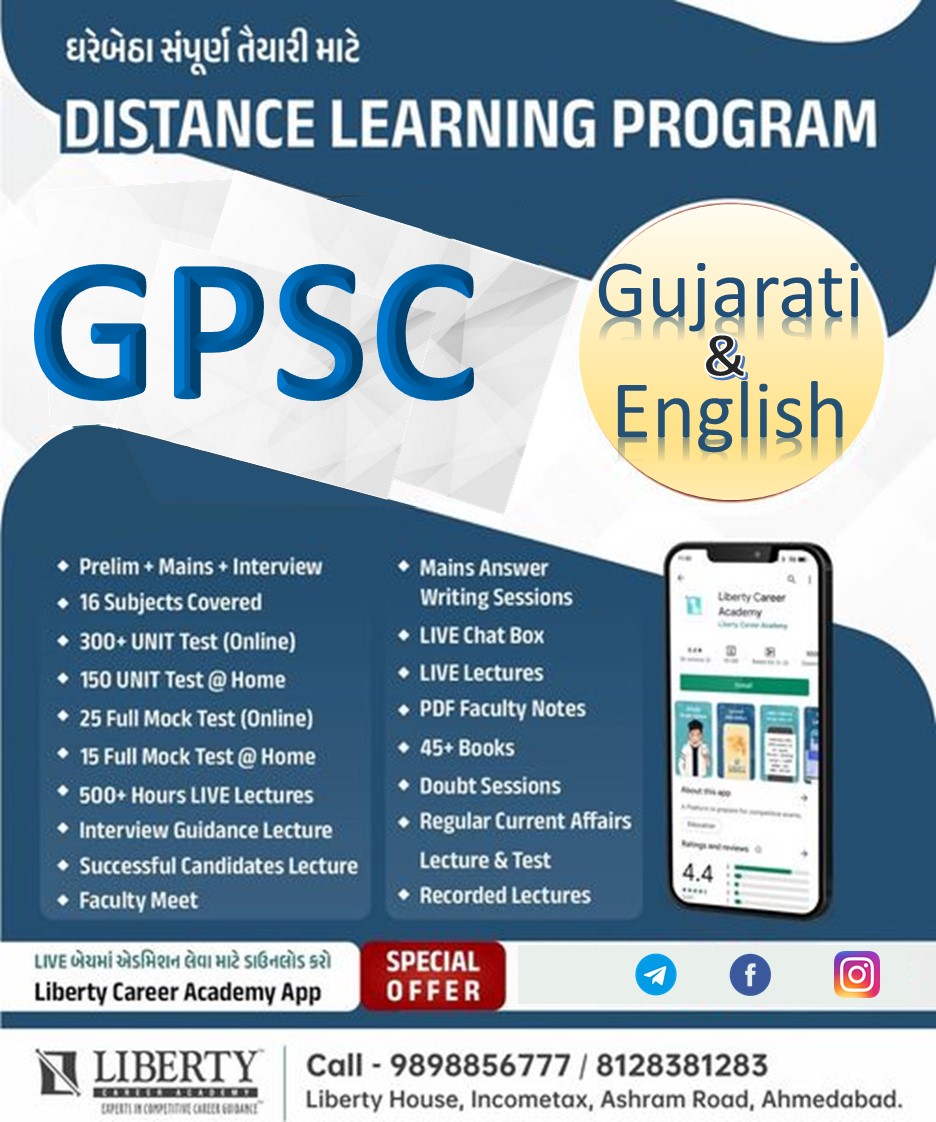 Dy Collector is the highest cadre in GAS test. Deserving candidates should apply online by OJAS Website (gpsc-ojas.gujarat.gov.in). As far as preparations for GPSC are concerned, first of all just get through the syllabus of prelims and mains thoroughly.
They have not specified the maximum number of attempts available to a candidate. An age limit set by the GPSC which means that the candidate can only apply till the age of 35 years..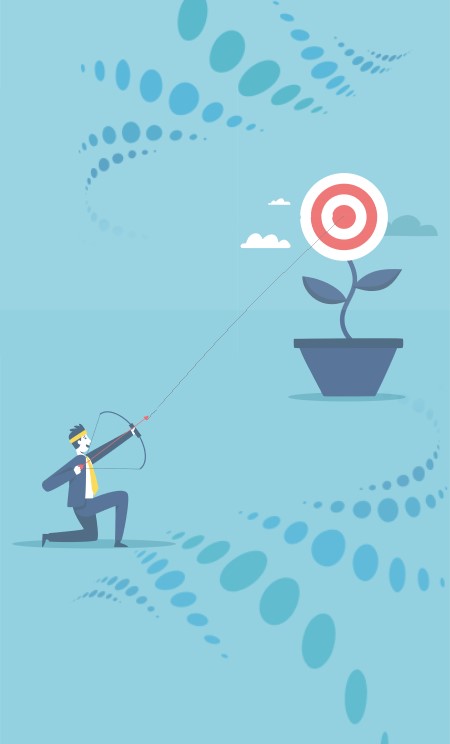 Gujarat Govt. Services Class I - II
Deputy Collector
Deputy Superintendent of Police
District Registrar
Superintendent Prohibition & Excise
Dy. Director Scheduled Castes
Section Officer
Assi. District Registrar
State Tax Officer
District Inspector Land Record
Tribal Devlopment Office
Social Welfare Office (S.C.)
Superintendent Prohibition & Excise
Assistant Director
Food & Civil Suply

GPSC Structure
GPSC has a Chairman and comprises 7 members. The current Chairman of GPSC is Shri Nalin Upadhyay.
Here are the GPSC contact details:
Postal Address Gujarat Public Service Commission Sector 10-A, Near CHH-3 Circle, CHH Road, Gandhinagar – 382010
General Number (Inquiry) – (079)232 58980
Fax Number – (079)23258400
Email- ps2sec-gpsc-ahd@gujarat.gov.in
Website- https://gpsc.gujarat.gov.in/Contactus
All correspondence and communication should be addressed to the Secretary, Gujarat Public Service Commission only.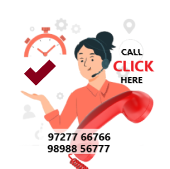 | | |
| --- | --- |
| GPSC Age Limit | 20 to 35 years |
| Age relaxation | As per category (mentioned below) |
| Educational qualification for GPSC Civil Services | Graduation Required from any recognized university |
| Nationality | Indian |
Gujarat Public Service Commission has not defined the number of attempts available to a candidate.
It is very important before starting preparation to understand your GPSC (Gujarat Public Service Commission) Exam Pattern 2022. Once you understand the GPSC Exam Pattern 2022, for your exam preparation - you will be able to make an effective timetable.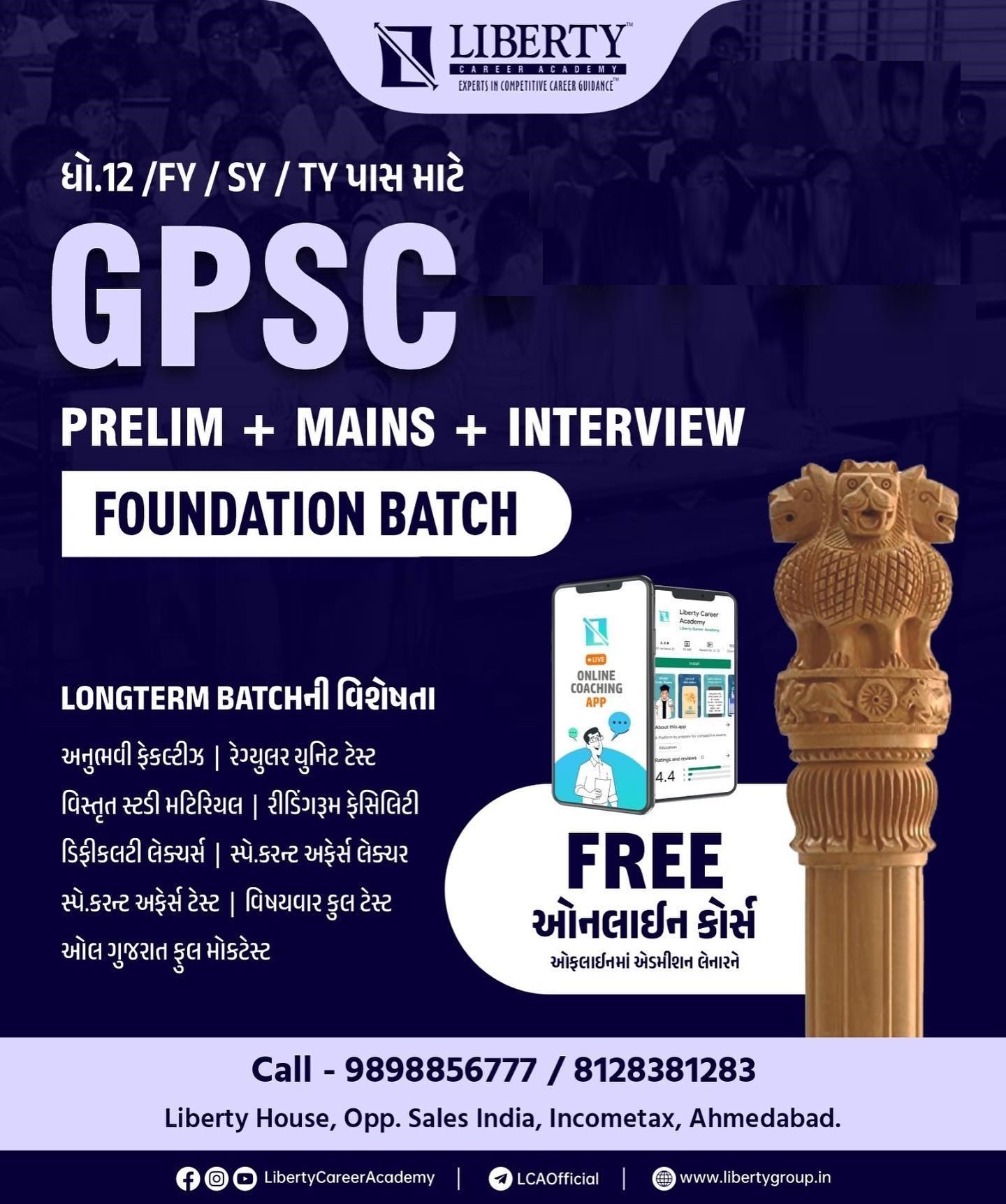 In two stages the GPSC Exam will be held:
GPSC Syllabus 2023
EXAM

Paper/Subject

Type

Marks

Preliminary

Paper : General Studies

MCQ Based
Negative Marking
Guj./Eng.

Paper 1 - 200
Time - 3 hrs.

Main Exam

Paper-1 Gujarati Language
Paper-2 English Language
Paper-3 Essay
Paper-4 Gen. Studies 1
Paper-5 Gen. Studies 2
Paper-6 Gen. Studies 3

G.S. (Paper - 1)
G.S. (Paper - 2)
G.S. (Paper - 3)
G.S. (Paper - 4)
Opt. (Paper - 1)
Opt. (Paper - 2)
Essay

150
150 - 3 hrs.
150 - 3 hrs.
150 - 3 hrs.
150 - 3 hrs.
150 - 3 hrs.
150 - 3 hrs.

Interview

Shortlisted candidates from Prelim and Main

Interview

100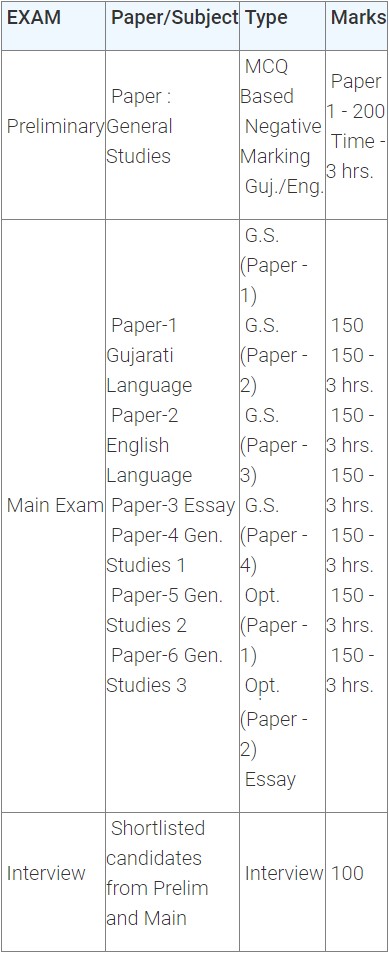 Preliminary Exam:
The first stage of Civil Services Examination is called Preliminary Examination. It is purely objective in nature, wherein for each question one has to select the correct option from the four possible options (a, b, c and d).
Civil Services Preliminary Exam is of total 400 marks.
At present the preliminary examination consists of two question papers.
General Studies-1 (GS) (100 Questions, 200 Marks)
General Studies-2 (CSAT) (80 questions, 200 marks)
General Studies-II is in the form of qualifying paper. In which 33% marks must be obtained.
In both the question papers, the system of 'Negative Marking' is implemented under which if 3 answers are wrong, 1 mark equal to 1 correct answer is deducted.
The cut-off in preliminary examination is determined only on the basis of first paper i.e. General Studies-1.
Candidates from 12 to 15 times the total number of seats are called for the main examination based on the marks obtained in General Studies-1.
The objective of preliminary examination is only to select few serious and suitable candidates from among all the candidates and the main examination is conducted among those selected candidates.
Main Exam:
The second stage of Civil Services Examination is called 'Main Examination'.
Candidates who qualify the preliminary examination are invited to appear for the main examination usually during the month of October-November.
The main examination is of total 1750 marks out of which 1000 marks are earmarked for general studies (4 papers of 250-250 marks), 500 marks for one optional subject (2 papers of 250-250 marks) and 250 marks for essay.
The main examination carries 300-300 marks for both papers of 'qualifying' nature (English as well as Hindi or any language included in the 8th Schedule of the Constitution), with a minimum qualifying mark of 25% (75 marks). The marks of these question papers are not included in the final merit.
The question papers of the main examination are published in both English and Hindi languages, although candidates are allowed to answer in any of the 22 languages ​​included in the 8th Schedule of the Constitution.
Significantly, where the preliminary exam is purely objective type, the mains exam asks descriptive questions with different word limits. These questions do not involve choosing an answer from different options but writing in one's own words. This is the reason why good writing style is considered very important to succeed in mains exam.
Interview:
The final and important stage of civil service examination is called Interview.
Candidates shortlisted in the main examination usually have to appear for an interview before the commission in the month of April – May.
It neither provides a correct answer option as in the preliminary exam nor does it have a self-selecting facility like some of the mains exam papers. Each question is required to be answered and you may be asked a counter question for each answer. Every wrong or misleading answer incurs the disadvantage of 'Negative Marking' and unlike the first two phases of the examination there is no fixed syllabus for this either. Any question that can be thought of in the world is a part of this syllabus.
275 marks have been fixed for interview in civil service exam conducted by UPSC. Marks prescribed for this stage are necessarily less as compared to mains exam marks (1750 marks) but these marks have a special contribution in final selection and posting.
During the interview the personality of the candidates is tested in this stage, in which oral question is asked by the members of the interview board at the designated place in the commission, which the candidate has to answer orally. This process usually takes 40-50 days depending on the number of candidates.
The merit list is finally prepared on the basis of total marks obtained in the main examination and interview.
---
Our Timing: 9:30 AM to 7:00 PM (Mon-Sat)
Email Us: support@libertygroup.in